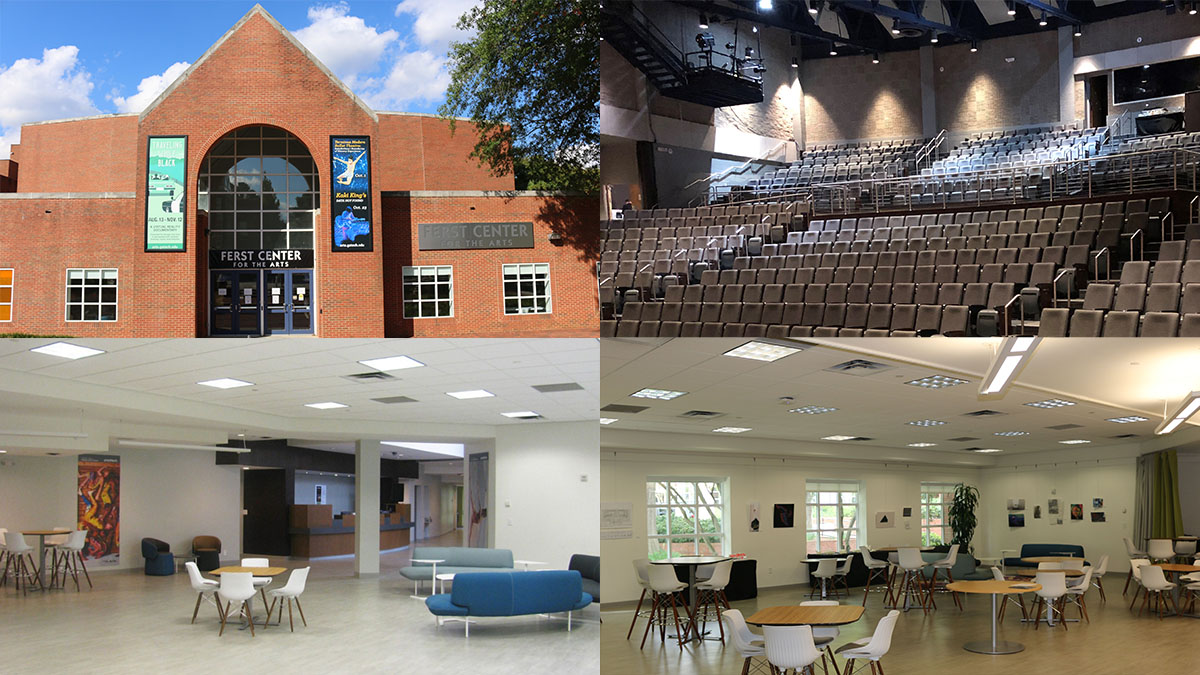 The Ferst Center for the Arts, located on the campus of Georgia Tech, is a 919-seat theater, an ideal venue for performances, films, lectures, conferences, and competitions. Recent renovations in the theater include all-new seats, additional areas for accessible seating, and fresh paint, aisle lighting, and carpeting. The Ferst Center's lobby is perfect for your next party, reception, smaller lectures, luncheons, and meetings.
(To view PDF files, a PDF reader such as Adobe Reader is required.)
Rental Process
Please note that rental requests must be submitted at least two weeks in advance of your event. Availability for the theater and lobbies is often limited. Some private and student events do not appear on the Ferst Center calendar. In order to determine availability you must submit a Rental Request Form.
1. Complete the rental request form; campus departments and Georgia Tech students should also review additional information below.
2. An event coordinator will contact you to discuss your date within two business days of your request.
3. A pre-production meeting will be set up with you to discuss event details, schedule, and logistics, in order to create a comprehensive event estimate. 
4. A contract will be emailed to you. You must sign and return the contract along with the following:
- Proof of Insurance
-Ticket Set-Up Form, if applicable
- 501(c)3 or other non-profit determination letter, if applicable
- Deposit of 25% rental fee & technical fees estimate
5. Two weeks before the event date, the remainder of the rental fee and technical fees estimate is due.
6. You will receive a final settlement invoice within 10 business days of the event.
7. Once the invoice is approved, payment will be received within 30 days when applicable.
Catering
When renting the facility, you must use an approved Georgia Tech caterer for all of your food and drink needs. Visit Tech Catering website for more information.
Georgia Tech Departments
Campus departments are welcome to present lectures, meetings, receptions, and events of all kinds in the Ferst Center for the Arts. Academic events may qualify for free rent, but this status must be confirmed with the event coordinator when setting up the contract for the event. All departments must pay for all other costs associated with using the Ferst Center, including but not limited to required labor, equipment, custodial, set-up, etc. These expenses may not be reimbursed by an outside entity when the department is receiving internal space rental rates. Please call the event coordinator at 404.385.4684 to check the availability of your date.
Georgia Tech Student Organizations
Georgia Tech student organizations are welcome to present events in the Ferst Center. Students are encouraged to speak with the event coordinator at 404.385.4684 to understand all the costs, requirements, and expectations of presenting an event at the Ferst Center.
In order to receive student group rates, the student organization must be the presenter of the event and listed in this manner on any advertisement of tickets for the event. Student organizations cannot permit off-campus organizations to use the Ferst Center by requesting usage through the student organization, and they cannot be reimbursed for expenses by an outside entity.
Student organizations must provide a campus organizational representative who will be present at all pre-production meetings and at all times when using the facility, whether at rehearsal, performances, or related events. The student organization's faculty advisor and student organization advisor must be signatories on their contract.