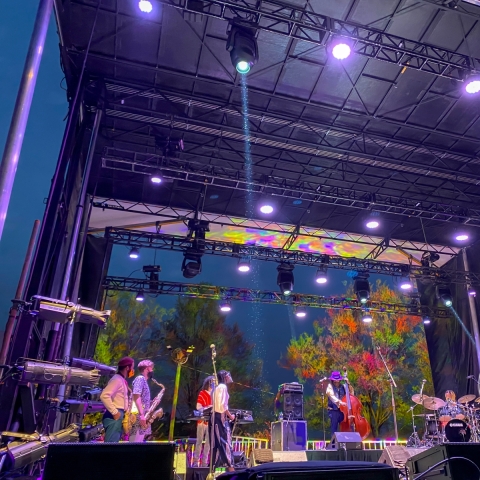 More on Skyline Series 2021
March 26-May 18, 2021
Skyline Stage on the Georgia Tech Campus
W21 parking lot at the intersection of Ferst Dr. and State St.
Celebrate spring and the arts in an inviting outdoor space that is safe for all!
Georgia Tech Arts Skyline Series will offer performances ranging from live music, to contemporary dance, and featuring a mix of Georgia Tech groups, Atlanta arts companies, and internationally recognized artists from outside of Georgia.
Georgia Tech Arts: Skyline Series
Members of the Georgia Tech community, when purchasing tickets please log in as general public but use your gatech email address. This will allow you to access any special offers or discounts. If you don't already have the discount code, please email info@arts.gatech.edu to join the mailing list and receive the code.
Seating is either offered as a combination of 2-person and 4-person pods or strictly as 4-person pods, depending on the performance. You must add all seats for your selected pod to your cart before the system will let you advance to the payment page. Georgia Tech Arts Box Office staff are available by phone at 404.894.9600 or email at tickets@arts.gatech.edu (Monday-Friday, 12:00 p.m. - 5:00 p.m.) to answer questions and offer additional assistance. 
Georgia Tech students can access discounted tickets to all performances thanks to a generous BuzzFunds grant.
The Skyline Series will offer 105 audience pods designed to hold up to 4 individuals. The 8-foot square spaces include chair seating on top of green turf donated by Shaw Industries and Shaw Sports Turf, all of which adds to the festival-like outdoor experience. Georgia Tech Arts has built an extensive plan to provide a safe and enjoyable experience for guests. Read full details on Georgia Tech Arts safety protocols and ticketing policies.  
**While Georgia Tech Arts is proceeding with planning for 2020-2021 season events to continue as scheduled, it will follow the lead of the Institute, the University System of Georgia, the city of Atlanta, the state of Georgia, and public health experts to determine when it is safe and appropriate to resume public gatherings. Programs subject to change.
Photo credit: Mwenso & the Shakes by Dani Weiss