Georgia Tech Arts' mission is to weave art into the learning and research of students and faculty across the Institute, and to invite the entire community to join in these encounters. Through a blend of professional performances, exhibitions, installations, residencies, and support for student and faculty ideas, Georgia Tech Arts places art at the epicenter of supporting the Strategic Objectives of the entire Institute.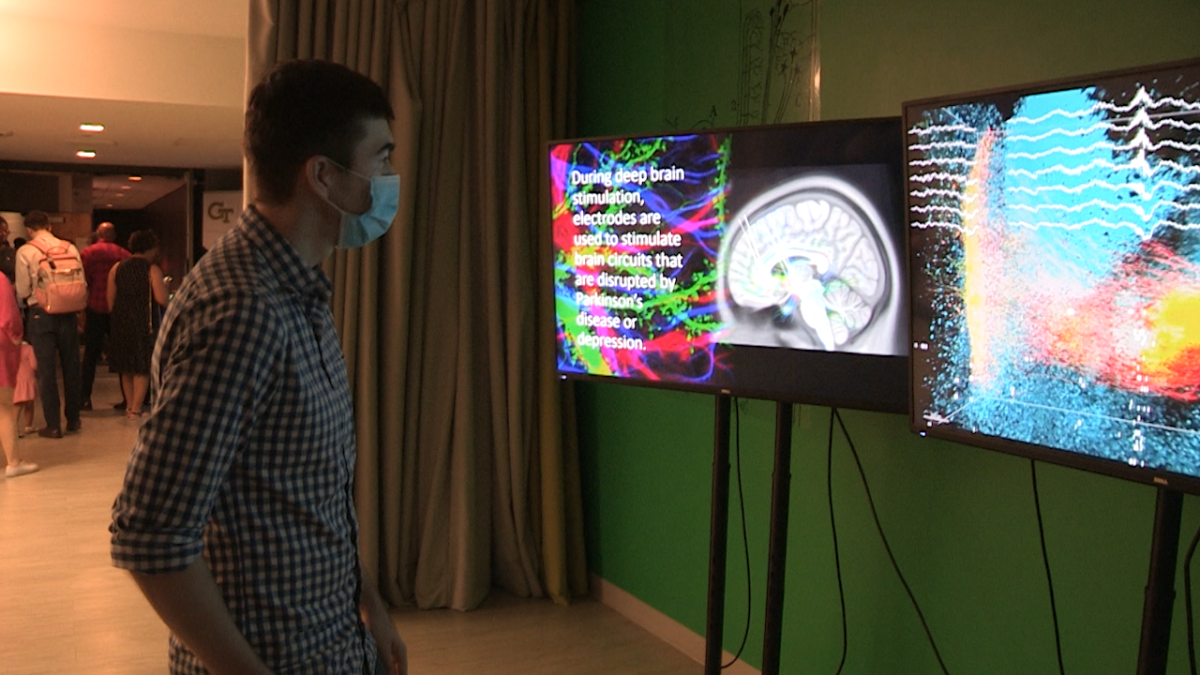 Two vibrant examples of these opportunities are Step the Brain Along a Path and Raise Your Hand. Step the Brain was a 3-year project that explored neuroscience and the ethics of intervention with AI and other technologies. Terminus Modern Ballet Theatre, choreographer Troy Schumacher, and new media artist Sergio Mora-Diaz created a full-length ballet in collaboration with a team of researchers led by Christopher Rozell, professor in the Georgia Tech School of Electrical & Computer Engineering and Karen Rommelfanger, president and founder of the Institute of Neuroethics Think and Do tank. The project expanded to include a visual arts installation in the Ferst Center lobby by Atlanta-based Kimberly Binns working with Tech graduate students Abigail Paulson, BMED, Kyle Johnson, BMED, and Tim Min, Music Technology. 
Photo: Biomedical Engineering graduate student engaging with the installation before attending the ballet.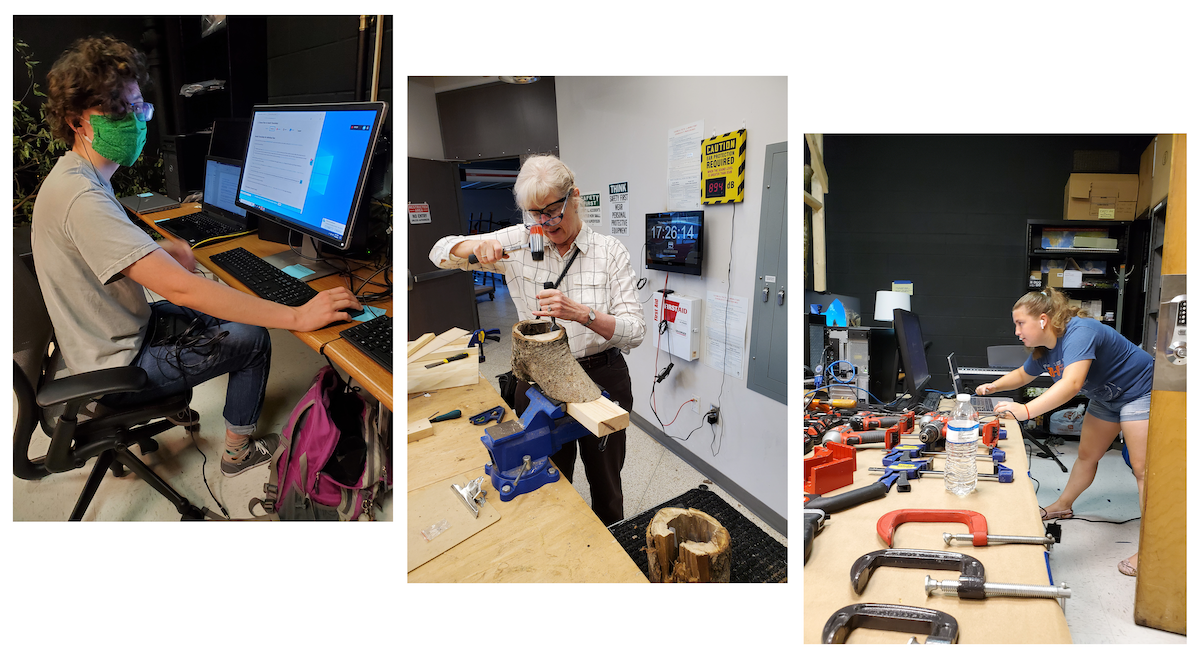 Created in part by Electronic ARTrium, a Georgia Tech Vertically Integrated Project, Raise Your Hand was created by students and faculty from the Schools of Electrical and Computer Engineering, Mechanical Engineering, Music, Industrial Design, and Computer Science, and the Georgia Tech Research Institute. By partnering with Georgia Tech Arts, the work was given increased visibility and could be experienced by all visitors to the Ferst Center for the Arts, whether passing through on the way to a performance, dropping in as they traversed campus, or making a special trip. Learn more about the team on their profile page.
photos: Professor Mary Ann Weitnauer and student team members.
We encourage you to reach out to the director of Georgia Tech Arts, Aaron Shackelford, or the Assistant Director – Producing and Residency, Nathalie Matychak, to talk about your projects (whether nascent or underway) and develop partnerships that can deepen the creative connections in your work. 
While you're here, please choose how you want to stay in touch - sign up for our mailing list, follow us on Facebook, Instagram and Twitter at @gatecharts, and visit our website often to check out our event listings, learn about the artists we're bringing to campus, discover discounts, and find opportunities to connect with other faculty. 
Click through the buttons below to learn more about past and current Georgia Tech Arts projects that connect to the research, education, and scholarship happening in classrooms and labs across campus and around the world.  
Blank Space (small)
(text and background only visible when logged in)